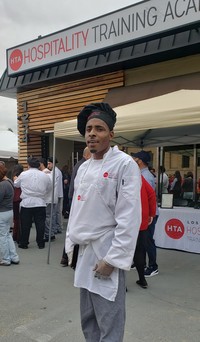 The Los Angeles Hospitality Training Academy (HTA) is provinding SOH youth with a new perspective on life and career.  The HTA trains low-income and underserved populations to obtain employment in the hospitality and food service industry and to move up the career ladder to the middle class.

For Terrance, the HTA has opened a pathway to his destiny – a career in culinary.  Hear from Terrance in his own words.
TERRANCE
"Many people don't know my story, but I choose to keep it that way. The reason why I keep my story to myself is because I do not want others sympathy towards me to become crutch to me. Instead I keep it to myself as a reminder and motivation to search for my purpose. 

Sanctuary of Hope has eliminated certain things I would typically worry about being on the streets or moving from couch to couch. Which ultimately keeps me in a state of survival. For the first time ever I can see. I can finally see my life aligning with a purpose. It's crazy how it all happened.

When I was at the Bridge House, my Life Coach Andre would talk to me about the big picture and asked what my picture would look like. He alway says 'Everybody has to paint their own picture, but in order to start one, you have to first see one.' At the time, I really didn't have a clue what my picture looked like.

Based upon previous conversations and my willingness to always want to help staff cook, he said to me, 'Terrance you have a passion for cooking, you really need to follow that passion. Let's look into culinary art schools for you.' It just so happened there was a hospitality school directly across from my apartment building. At first ,I didn't pay any attention to it. Then I attended a job fair at SOH Adams office and that same hospitality school, Los Angeles Hospitality Training Academy,  was there speaking on all the opportunities that they have to offer. It was that day I decided to pursue culinary.

I'm feeling confident, and very excited to take these next steps in my life. If you were to ask me back in 2018 where I see myself in 2019, I would not be able to answer that question with confidence. If that same question was asked to me today, it would be a different story, because my narrative has changed."